Patient online sign-up form
Nowadays many patients prefer to signup online without having to visit the medical clinic in person. The online sign-up form lets patients signup to the clinic services through an online form by filling a simple questionnaire. This greatly speeds up the signup process and additionally it allows patients to signup even during the office non-working hours.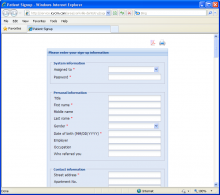 Click on the thumbnail to see a screenshot of a custom patient signup form
The patient fields on the patient sign-up form are fully customizable by the business owner from the "Patient extra fields" page.