Synchronization with mobile phones
Nowadays the mobile phones become more and more powerful, gradually gaining most of the capabilities that only desktop / notebook computers had until recently. Users follow this trend and start using their smart-phones not only for making phone calls but also for browsing the internet, taking notes and generally managing their appointments and contacts.
In order to keep up with this trend AssistMedic supports synchronization with all modern smart-phones using the SyncML protocol (now known as OMA DS). The mobile phones that support SyncML include most modern brands like iPhone, Blackberry and the whole myriad of Android-powered phones.
In addition to smartphones, SyncML is supported by a number of desktop applications like Microsoft Outlook, Lotus Notes, etc.
Below is a simple scheme explaining the synchronization process between the AssistMedic server, the patients who schedule their own appointments, and the doctor who uses a smart-phone to receive the latest updates of his schedule.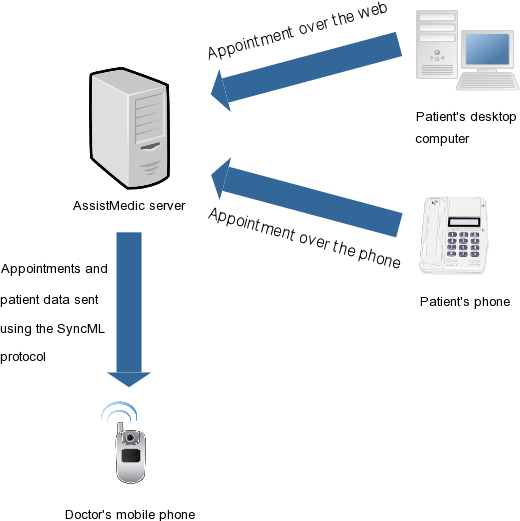 Some other medical scheduling and receptionist services use third-party services for mobile synchronization and thus make your patient and appointment data available to these third parties. AssistMedic, on the other hand uses its own SyncML server which ensures that your data is never disclosed to any third parties.