A content management system (CMS) that works correctly on all kinds of web browsers including mobile phones
AssistMedic includes a content management system that allows office administrators to edit the web pages of their websites. The CMS can be used to provide dynamic content on the medical website, for example a messageboard with latest announcements about the medical clinic.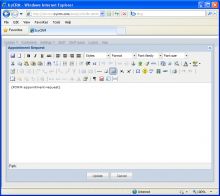 Click on the thumbnail to see a screenshot of the CMS page editor
Dynamic pages can be integrated into existing websites in pretty much the same fashion as custom web forms, either through some server-side scripting language or through HTML frames.